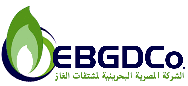 Egyptian Bahraini Gas Derivatives Company
Project HSSE goals are - no accidents, no harm to people, and no damage to the environment.



Project work activities was done accordance with best practice and applicable.



The Project HSSE Plan produced during the FEED stage of the project has been updated to reflect the detailed design scope of work.



The focus of HSSE is to maintain and further develop the levels of health, safety and security and to continue to manage and reduce
environmental impacts.


The risk assessment studies undertaken during FEED updated as necessary to reflect the further definition available as the design
progresses. These studies include the fire and toxic gas risk assessment, HAZOP, HAZID, and the QRA.




The hazard register developed to identify safety critical measures and equipment linked to the preparation of safety critical equipment performance standards.

EBGDCo Developed and implemented robust HSE management system capable to manage the risks during construction, commissioning,
startup and operations phases as well as the detection of areas of improvement to allow proactive response.




As readiness for any emergencies may take place during normal operations HSE team communicate and implement NGL Plant emergency
response procedures, with proper training and testing of procedures effectiveness tacking in consideration the bridging and cooperation
during emergencies with adjacent companies.

Continuous testing for integrity of fire and gas detection systems as well as active fire-fighting systems done on regular basis to ensure safe startup, operation and effective emergency detection and response. Finally we get all official approvals from Egyptian civil defense authorities of compliant with national requirements and legislations.




As a result from above efforts we achieving of almost five million work hours including (engineering, construction, commissioning,
and startup) without single Days Away From Work Cases (DAFWC).
All Copyrights are reserved © 2016 by EBGDCo